Monnaie à l'Elephant - César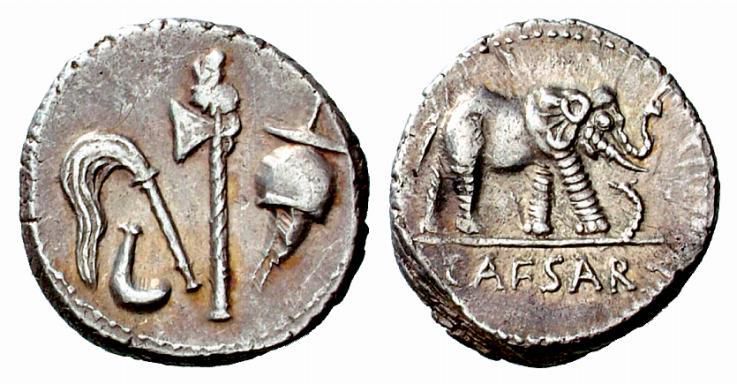 Je voudrais vous présenter un mail que j'avais adressé au responsable de publication d'Ancient Warfare, magazine spécialisé, comme son titre l'indique, dans l'étude de l'appareil militaire, politique, et institutionnel antique.
Dans le numéro dont traite l'article il était question de la monnaie de César, plus précisément celle à l'éléphant. Je traiterais de façon plus détaillé de cette dernière dans cet article prochainement, mais je vous présente les interrogations et interprétations que j'avais partagé à cette occasion :

--------

I would react to an article of the Vol. II issue 4.
I have read entirely this volume and it seems to me, as all the others magazine that I'm be able to read, that the team behind the Ancient Warfare Magazine is really professional, passionate, and great historians and writers, and I want to say thank you for all your work, and wish that you will continue to maintain the A.W magazine for a long time.
After those kind words, I will explain the subject of my message, and with my middle language, will try to describe my point of view concerning the Caesar's Elephant story that you talked about at the 43 pages of the magazine.
You spoke about an Elephant in England. It seems to me that at this time, and compare to those that Hannibal tried to bring in Italy two centuries ago, it has been very difficult for Caesar to bet "a symbol" of the campaign on one unique elephant. Not to mention that the temperature, environment and the food at disposition for this type of animal would have require a great logistic, and necessitate a fantastic organization concerning the need of mobilizing and military drill in British Island.
"He had access to African elephants brought to Rome", true but strategically what would have been the importance of the elephant support in an environment like the British Island? It makes a little more sense in a use of this animal into the Gauls.
It has been really hard to transfer his own troops and those elephants, in both speed and tactical way. And concerning its use, it would have required some specialist on the subject, don't you think?
"Caesar was careful to applaud the skills of his troops" True, but he was confident concerning his uses of the Germans cavalrymen, so why wouldn't he mention the use of an Elephant during his campaign, as a new support for his "milites"? And the question of just one elephant is a little bit strange for an entire campaign; again Hannibal brought at least few dozens of elephants.
"Domitius Ahenobarbus rode an elephant in celebration of his defeat over Gallic Celts in 121 BC", would have been easier for him to organize the entire symbol of his triumph, as a great general, he wouldn't have bet his reputation of an improvise plan, and I guess that the entire ceremonial would have been control by his officers, and himself.
And to finish I would speak about the signification of the Elephant symbol for Caesar. It was at his time wordplay, concerning his name and the pronunciation of the word attached to "elephant" (Caesar / Caesai into the Punic language, and known as that in Gaul).
The presence of a Dragon, symbol of the peoples who lived in those islands, would have been just the symbolization of the roman presence on the British Island, propaganda to say simply: The Great "Caesar", known as the "Roman Elephant" has been able to access and conquer "the Islands of the North People"
As an explanation of my point of view, I'm based on some personal researches and the Roman Coins Values, where the Coin present in this article is present. Not to say that as you, I found anywhere a mention of the presence of an elephant by Caesar himself, or his contemporaries. The only mention of this element was Polyaenus, as you said, who lived during the 2nd Century, and was maybe influenced by a primary interpretation of rumors.
It seems that the elephant symbolizes Caesar himself, by a play on words on its name. The snake could indeed be a Carnyx, a Gallic trumpet in the shrill sound. This coin intended for the payment of the troops was abundantly struck, maybe in an itinerary workshop, which would have come with the army, and would explained the common use of this "surname".
--------
© Droits d'Auteur: Sébastien Thiriet
Merci de préserver les droits liés à ce document et de n'effectuer une copie, ou une citation de l'article qu'avec l'approbation de son auteur.
Partager cet article